Game Features
In the costly world of modern day hurling, shall you implement a conservative financial policy, saving your cash to meet unexpected needs? Or do you believe in investing heavily in a structure that will enhance your team's immediate chances?

Negotiate with the big boys of the business world to secure the sponsorship deal that is necessary to generate those vital funds. Just remember that sponsorship is a two-way thing and that the hot-shots expect the team to succeed, whether you are still at the helm or not is insignificant to them!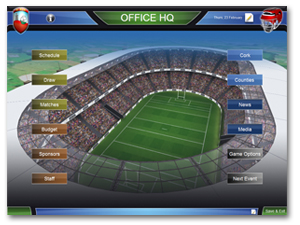 Tackle the everyday dramas, dilemmas and controversies that threaten to spoil you and your team's season. Locate your thinking cap as every imaginable scenario is left on your doorstep for you to solve. The press can be a great friend but also a fierce foe of yours. Spend time assessing who you can and cannot trust within the media before you/your players speak to any quizzical journalist.
No manager is an island; therefore it is imperative that you choose a coach, a selector and a physiotherapist who will meet your individual needs within the specified budget. Their expert advice and skills may well get you out of a tight spot but be prepared to pay for the best! Further understand your team's on-field performances by studying their possession, shooting, link-play, tackling and discipline statistics amongst much, much more from as early as match day 1.
Decide on each training session's content and the different type of ball control work you intend on conducting. Concentrate primarily on first-time play, tackling, solo-running, fielding or reaction drills or a combination of all depending on your teams' requirements. Stamina work, specific player diets, set-piece drills, warm-up and warm-down drills are all vital aspects of modern Hurling management and it is up to you to get the balance right for the good of your team.
Decide upon a style of play that suits the players at your disposal alongside devising a passing strategy that will further your chances. One of the most difficult parts of your job description, you must choose the starting XV and match-day substitutes. Throw sentimentality out the window, you must pick a side that gives you the best chance of overcoming your opposition!
Watch your players put into practice what you taught them on the training ground in the 2D Match Day simulation matrix. Don't be afraid to make positional moves, substitutions and tactical changes when you feel the need to do so. With live game commentary, half-time analysis, up-to-the-second player, team, game and scoring statistics available, the world's most revered sport is truly captured in Bainisteoir - Hurling©.
Motivate your players into action with pre-match and half-time speeches, by focusing on images and emotions that will bring the most out of the players. Ever dream of lining out as a player on Hurling's biggest day? Customise your panel of hurlers to include yourself and your club-mates!